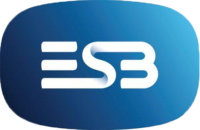 Services provided: Concept development, design, editing, proofreading, print management, digital editions, illustration, photography.

ESB came on as our very first client back in 2005, and have been with us ever since. We do a wide variety of work for ESB, including their Annual Report, Sustainability Report, Employee Magazine and pretty much anything else that is required – which once included designing an exhibition for the Ardnacrusha visitor centre.
One of the projects that we are most proud of is producing the ESB Annual Report, which we have done for the past nine years. The project begins with us taking a brief from the client that outlines key strategic messages for that year's report. We research any new developments in best practice for corporate reporting, then come up with a creative concept that is best in class and meets the company's strategic objectives. Once approved, the design is applied to the report, bespoke photography/illustrations are created and the editing begins.
This project requires meticulous attention to detail. The combined efforts of the client and Zahra have meant that the ESB Annual Report has won 'Best Annual Report' in its category at the Published Accounts Awards for nine years in a row.