Today, people across the world are getting involved in activities and events that celebrate Earth Day.
By understanding how the events of the past year have affected the environment – and, indeed, just how impactful ecological events can be – we've all become a little more aware of our surroundings. Recent studies have shown that 60% of consumers are willing to change their shopping habits to reduce their environmental impact, with 80% of those surveyed saying that sustainability is important to them.
Earth Day is a way for your company to stand up and say, 'We're part of the solution.' At Zahra, we're lucky to work with a number of brands doing their bit, and to be surrounded by a host of other Irish companies keen on being green; here's a handful of those who are getting it right…
Aviva has a sustainability policy, but also creates content to encourage sustainability amongst customers. They enlisted the help of Pat Kane, founder of Reuzi, and creator of Dalkey Handmade Soaps, Val Reid, to talk about tips for creating a sustainable home in a recent podcast episode.
The podcast offers insights into the small ways we can help to make our homes more sustainable, while debunking some common myths around sustainability. The pair offer advice on household habits and hacks, sustainable shopping, home appliances, and how to create more sustainable gardens.
With 40% of Irish adults listening to podcasts regularly, it's a powerful way to get the sustainable message directly out to the Aviva community – and to provide purposeful and actionable advice on how customers can do their bit.
Listen to the podcast here:
a o i f e is a designer lifestyle luxury brand, that's mindful of the environment that we share. It's part of a new generation of businesses championing the circular economy; the concept of reusing and recycling all materials and eliminating waste and pollution.
The company uses regenerated and natural eco materials to produce luxurious ethical bags. Fabric and linings from the brand are 100% technical regenerated nylon, produced from ghost fishing nets and fabrics that are destined for landfills.
A percentage of all sales is donated to Healthy Seas, which was founded to help clean up the ocean of plastics. For every bag sold online, a tree is planted in an effort to combat climate change.
The company's stated goal is to return the planet to our children in a better condition than we found it – something we can all get on board with.
It is estimated that 3.5 billion plastic toothbrushes are produced each year, with the average person using 300 toothbrushes in their lifetime – which isn't necessarily something to smile about.
In an effort to curb the resulting waste, Irish couple Niamh McGill and Joe Finnegan created a biodegradable toothbrush, complete with the stonking tagline of 'Change the handle, change the world'. Bambooth toothbrushes feature a biodegradable handle made from Panda-friendly Moso bamboo; unlike plastic, it's a renewable natural material and is 100pc biodegradable.
For every Bambooth sold, a donation is made to one of four conservation efforts linked to habitat protection; the Jane Goodall Institute, Coral Reef Alliance, The Marine Conservation Society and Plastic Oceans.
It all goes to show how a small change to an everyday item can make such a massive impact – and how small businesses can make a profound difference.
ESB, one of Ireland's leading electricity companies, has taken strides within their business to become more sustainable, and share their efforts with the general public in a sustainability report produced each year. Part of their efforts includes their Brighter Future Strategy, which aims to create a brighter future for the customers and communities they serve.
By the middle of the decade, coal generation will have ceased – following the stoppage of peat generation already enacted. By 2030, the company plans to halve the carbon intensity of its electricity generation, and increase their renewable electricity output to 50%. ESB are also a signatory of the Vision for the European Electricity Industry, and so have committed to the goal of carbon neutrality before 2050.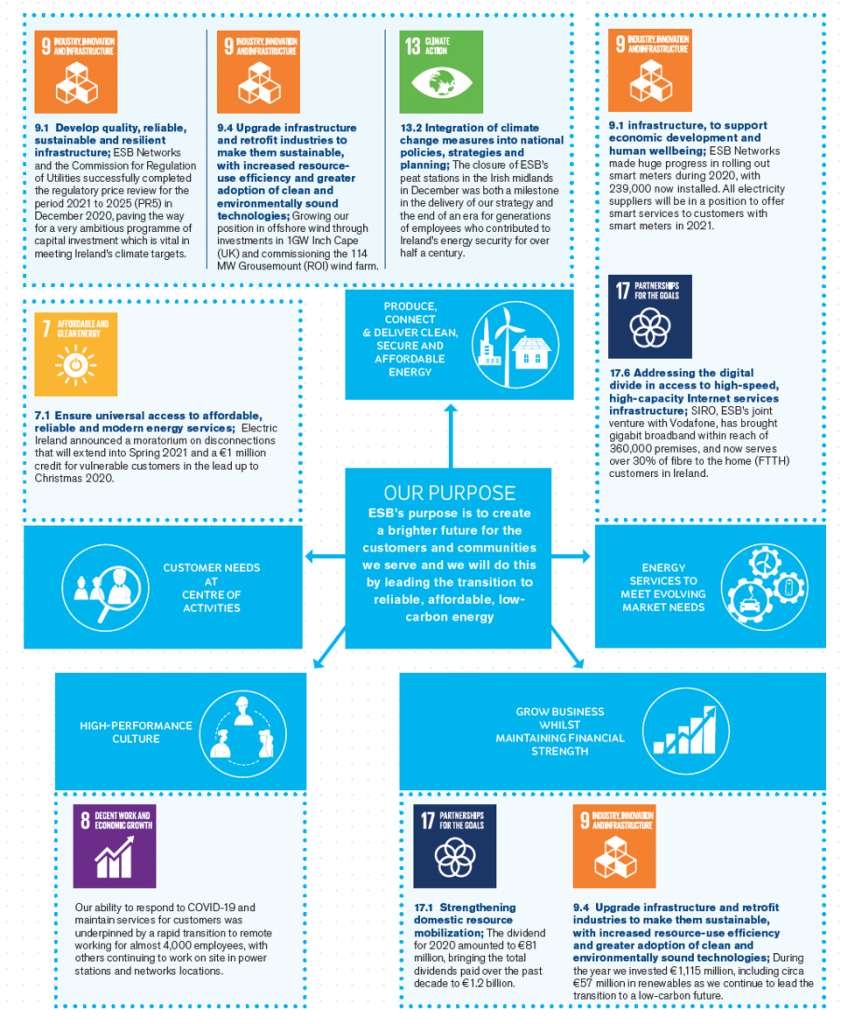 We're all aware of how energy consumption affects the world around us, and the changes we can make at home; how good it is to see energy suppliers with the same type of commitment to the future.
It mightn't be the first thing to spring to mind when planning to tie the knot, but the big day can often have a big environmental impact. That's why Hotel Doolin in County Clare is offering eco weddings, so customers can go green for their special event.
In 2018, the hotel decided to replace the marquee used for weddings at the hotel, and built a state of the art 'eco-barn' for the events – complete with a state-of-the-art sustainable heating and cooling system. For every wedding booked, the hotel plants 10 trees at Moyhill Community Garden, totalling a whopping 1,700 trees since the initiative began.
Furthermore, 90% of the food on the hotel's menus are sourced within a 30km radius of the property, in an effort to reduce their carbon footprint, they also offer free charging points for guests who have an electric car.
Little wonder they've bagged a Platinum Award from Green Hospitality Ireland for the past three years!
At Zahra, we're not just invested in assisting our clients' green initiatives; we practice what we preach. Print publishing, in particular, has seen impressive technological advancements in recent years, and we've incorporated the very best of these into the products we put on the shelves.
In the production of Easy Food magazine, we work with our partner Walstead to use paper sourced from managed, sustainable forests. The magazine is printed using vegetable oil-based inks, and print technology that follows the ISO14001 environmental standard.
Because for as long as there are pages turning, we need to make sure the world keeps turning too!
Need help showcasing your company's green initiatives? Then get in touch; email gmiltiadou@zahramediagroup.com or connect through our Contact page.